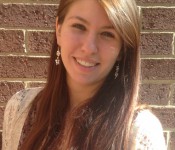 ASAS has chosen six Science Policy interns for summer 2017. We are pleased to introduce Alyssa Condon, who is interning in the Washington D.C. office of Congressman Joe Courtney.
Alyssa writes:
I am going to be a senior at the University of Connecticut. Currently, I am double majoring in animal science and resource economics. I originally entered UConn as a pre-vet student, but during my studies I fell in love with agriculture and changed my course.
On campus, I am a member of Sigma Alpha, the professional agriculture sorority. This past year, I served as philanthropy chair, coordinating our community service events. I also served as secretary of UConn's chapter of Block and Bridle, and next year will be the Vice President of Dairy Club. I'm also an ambassador for the College of Agriculture, Health, and Natural Resources. As an ambassador, I represent the college at open houses and speak to prospective students about choosing UConn.
Before college, I had no experience with agriculture, but I have always loved animals. I was lucky enough to get a job working at the Kellogg Dairy Center, UConn's on-campus dairy. Through this job and my participation in Dairy Club, I fell in love with the dairy industry.
This summer, I will be interning in Congressman Joe Courtney's office. I hope to gain perspective on how the wants and needs of constituents are represented in Congress. In the future, I will most likely pursue a Master's degree in agriculture policy. My main goal is to help farmers and other members of rural communities, especially those involved with the dairy industry, through agricultural policy and law. This internship will help me gain experience in these areas and learn how I can make a difference.
During the past several weeks, D.C. interns Rachael Buzanowski and Tyler Madison Roberts also have been featured in Taking Stock.
The ASAS Summer Science Policy Internship is supported by the Jack H. Britt Appreciation Club, the Louis J. Boyd Appreciation Club, the Barb Glenn Appreciation Club, the Harold D. Hafs Appreciation Club, and the Robert G. Zimbelman Appreciation Club.