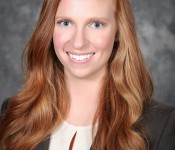 We are pleased to introduce you to KathrynAnn Fields, one of six ASAS Science Policy interns. KathrynAnn will be interning in the Washington D.C. office of Congressman John Carter.
KathrynAnn received her Bachelor of Science and Master of Science degrees in Food and Resource Economics from the University of Florida in 2013 and 2015, respectively. In August of 2016, she joined the Bush School of Government and Public Service at Texas A&M University where she will receive a Master's of Public Service and Administration with an emphasis in agricultural policy in May 2018.
KathrynAnn is a native of Gainesville, Florida with a family ranch background. She is a member of Gamma Sigma Delta Honor Society and Alpha Zeta Agriculture Honor Fraternity. She has received numerous scholarships and awards. In spring 2015 she received a scholarship to attend the International Livestock Forum in Fort Collins, Colorado and in spring 2016, to attend the International Livestock Congress Conference in Houston, Texas.
Prior to attending the Bush School, she completed an internship with the National Cattlemen's Beef Association in Washington, D.C. in spring 2015 where she learned how a lobbying organization affects agricultural policy.
Her education has also granted her the opportunity to travel to Paris to study France's agricultural policies and, for her thesis research, to Central America to collect data at the second largest coral reef system in the world. She conducted research as a graduate research assistant for the Department of Animal Sciences. Her research focused on the Texas Beef Industry by providing the history, economic value, challenges, anticipated threats, and the role of the TAMU system in providing solutions to the industry to make policy recommendations.
In her spare time, she enjoys scuba diving, traveling, and assisting her father on the family ranch in Bushnell, Florida.
KathrynAnn is interested in agricultural policy as it relates to agriculture production and feeding a rapidly expanding population.
During the past several weeks, D.C. interns Rachael Buzanowski, Tyler Madison Roberts, and Alyssa Condon also have been featured in Taking Stock.
The ASAS Summer Science Policy Internship is supported by the Jack H. Britt Appreciation Club, the Louis J. Boyd Appreciation Club, the Barb Glenn Appreciation Club, the Harold D. Hafs Appreciation Club, and the Robert G. Zimbelman Appreciation Club.