Daniel Munch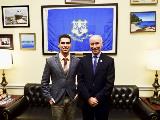 D.C. Policy Intern 2018
Imagine a 12-year-old middle-schooler standing on the side of the road during a town fair successfully selling live chickens for $25.00 a pop. Any person with knowledge in agriculture would realize this is a massive upsell and absurd price to sell chickens at. But, for a 4-H kid making an exceptional profit off a product I raised, it was an inspiring and thrilling experience. Fast forward to the present and my various childhood entrepreneurial endeavors are just part of the foundation that fueled my decision for a career in agricultural policy and economics.
When I entered my undergraduate career at the University of Connecticut, in animal science, I was exposed to the complex links between the livestock industries, business strategies, consumer beliefs, and government policies. Taking advantage of the "build-your-own" individualized major option, I designed my own plan of study to fulfill my newfound interests in these interconnected fields. Called Livestock Management & Policy, the major combined courses from animal science, resource economics, and political science. I also earned a double major in applied resource economics to gain additional background and critical skills required in creating more efficient livestock agricultural systems.
In the future, I hope to help provide solutions to the vast amount of misinformation presently held by consumers when considering our domestic livestock agriculture systems. The negative stigmas against farmers harm the industries that have been an essential part of our economy and show the need for economic and policy strategies to counter these consumer beliefs.
This summer, I was extremely grateful to hear and take advantage of the American Society of Animal Science Washington D.C. policy internship to compliment my interests in livestock related economic and policy issues. Working in the office of Congressman Joe Courtney, I experienced the development of legislation seeking to protect the small but lively agriculture sector in Eastern Connecticut, where I had lived my entire life. Not to mention, the Agriculture and Nutrition Act of 2018, more commonly known as the Farm Bill, made its way through the House of Representatives and Senate while I was interning which proved to be a thrilling experience. In addition to the regular daily tasks of attending to constituent concerns and researching an array of policy issues I was able to participate in a variety of agricultural related briefings. Ranging from the latest news on cultured lab meat production to free range poultry welfare concerns, I was exposed to issues I sometimes knew barely nothing about but gained issue awareness I will apply to upcoming graduate studies and future career endeavors. One of the best parts of working on Capitol Hill for the summer was the incredible people you meet. Besides the extremely gracious office and Congressman Courtney, I met dozens of other agricultural interns, industry leaders, and government officials that I will be able to keep in contact with in years to come. Later this month, I will enter the next phase of my life as a Masters student at Cornell University's Dyson School of Applied Economics and Management in Agricultural and Food Economics. I know that each day I will be pulling from the knowledge I acquired during my policy internship and applying it to further my education. I am extremely thankful to the American Society of Animal Science and my congressional office for providing the opportunity to work and live in Washington D.C.