My D.C. Summer of Agriculture Policy
By: Elizabeth Frey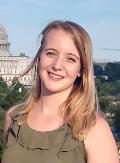 Many people's story of how they ended up working in Washington D.C. starts with the phrase "I never thought I'd end up working where I am", and I am no exception. I grew up in a fairly small town in West Michigan that consists of an interesting mixture of farm families and suburban sprawl. After high school I only ventured an hour away from home to pursue a B.S. in Animal Science and a minor in Agribusiness Management. After a semester in New Zealand, I returned to MSU as a graduate research assistant and began pursuing a Master's degree in Animal Science with a focus on feedlot beef cattle.
Throughout those experiences I got a taste of small town America, B1G 10 campus life, Kiwi and Australian culture, and the highs and lows of academia-centered research. Yet until midway through the first year of that Master's degree I had never seriously considered the possibility that I would ever end up working in agriculture policy in Washington D.C. National policy was always a topic which I recognized as relevant and crucial to agriculture, particularly after I spent 15 months interning at the state level on international trade issues. But I always held the perspective that those big national scale issues were best left "to the experts"; the political science students, the politicians with countless connections, the people who knew the ins and outs of policy.
So I caught myself by surprise when, after a conversation about our professional interests, I found myself agreeing after an officemate suggested I try out an agriculture policy fellowship in Washington D.C. Fast forward through approximately 5 months of researching, networking, applications, and interviews, I caught myself thinking those infamous words "I never thought I'd end up working where I am" as I walked through the doors of the Hart Senate Office Building with a group of rural community leaders from across the nation.
From May to August 2018 I worked for an agriculture policy, government relations, and executive management firm based just north east of Capitol Hill in D.C. During that time I researched developing policy issues, wrote press releases and articles for clients, coordinated fly-ins, scheduled Hill and agency meetings, and took notes and even contributed at meetings I never dreamed I would have the opportunity to be a part of. I found myself digging into issues that affected farmers and rural communities across the country, and was pleasantly surprised at the joy I experienced when I was able to help rural experts, business owners, and farmers bring their story to the heart of D.C.
Through my time in D.C. I discovered that I have a passion for agriculture that extends beyond raising livestock and conducting applied research. I also discovered that the "experts" in Washington D.C. vary from 18 year old activists to seasoned D.C. lifers with entire careers under their belts. These D.C. based folks depend on the experiences of citizens across the country to steer the direction of their work, and it's important we all remember to let our voices be heard. Whether you're a school teacher and potato grower from Bangor, Maine, a beef rancher from Lambert, Montana, or an Animal Scientist from West Michigan we all have a story to tell and expertise to contribute on our own respective issues. Sometimes all it takes is one bold step outside our comfort zone, and we discover the value of our unique perspective and the effect that story can have for the direction of our national policy.
I will forever be grateful for the experience and exposure to new ideas and opportunities I gained during my fellowship in Washington D.C. It was an invaluable experience and it would not have been possible without the support of my family, the encouragement of my colleagues at Michigan State, the inspiring company that brought me onto their team, and most importantly, the committee the American Society of Animal Science that made it all possible.