Stephanie McBath
2018 Policy Intern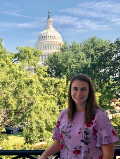 Before I introduce myself, I would first like to thank the American Society of Animal
Science, their staff, and their stakeholders for affording me the opportunity to intern in
Washington, D.C. this summer. It has been a truly unforgettable experience, and I am
grateful to have been one of the students selected.
I am a senior at Cornell University, majoring in Animal Science with a concentration in
Dairy Science, and a minor in business. Over the course of my high school career, I
was involved with 4-H, FFA, Farm Bureau, the NY and National Holstein Associations,
and the Dairy Princess Program. During my time at Cornell, I have been involved with
Collegiate Farm Bureau, served as Campus Ambassador for Agriculture Future of
America, been a member of Phi Sigma Sigma Sorority, and an active participant in my
favorite group, the Cornell University Dairy Science Club (CUDS). I look forward to
serving as President of CUDS this year, being a Next Generation Class of 2018
member of the National Association of State Departments of Agriculture, and serving as
the undergraduate campus delegate for the Council on Agricultural Research,
Extension, and Teaching.
Over the past seven weeks, I have had the unique opportunity of interning for my
Congresswoman, Rep. Elise Stefanik, of New York's 21 st District. I have lived within the
district for my entire life and have been able to take what I already know about the area,
and apply it towards my responsibilities as an intern. Answering constituent phone calls,
running errands, and giving tours were a huge part of summer. However, my ties to the
dairy industry, and the district, proved to be very helpful.
This summer was a crucial time for both the dairy and agricultural sector as a whole.
With Farm Bill and immigration legislation as huge hot topics on the Hill, I was able to
learn a great deal under the office Agriculture Legislative Assistant. He made sure I was
able to sit in on meetings with concerned interest groups and constituents on issues
surrounding the state of upstate NY agriculture. I learned a lot about Congressional
perception of the dairy industry, as well as those who are staffed in Congressional
offices, and the role that dairy farmers play within the country's framework. It was
certainly an interesting and exciting time to be an "Ag-Tern", as I was so named by the
office staff.
The information that I have learned about the legislative process, and what it takes to
see legislation actually go through, has been invaluable. The connections that I have
made, however, have been even more applicable to my future career goals. After this
summer, I have decided that agricultural policy is the right path for me, in some
capacity. And I will not only bring my connections and experiences back to campus for
my final year, but also to whichever career path I choose, in the next few months.