"Snack & Fact" Briefings
About the Program
One of the foundational reasons for creating the animal agriculture magazine Animal Frontiers was to share issues in animal agriculture and animal science with a broader audience. ASAS, in conjunction with our partners AMSA, EAAP and CSAS, distributes Animal Frontiers electronically and in print format to various governmental groups.
In addition to this service, U.S.-based authors visit Washington, D.C. and present information from Animal Frontiers to congressional staffers on Capitol Hill. These events are called ASAS Snack & Fact briefings.
"What Mom Eats Matters" - December 4, 2017
Guest speakers Dr. Kristen Govoni, University of Connecticut, and Dr. Joel Caton, North Dakota State University, discuss "Developmental programming: What Mom eats matters," the theme of the July 2017 issue of Animal Frontiers.


"What Mom Eats Matters" - ASAS Snack & Fact, Dec. 4, 2017 from ASAS on Vimeo.
"Performance-enhancing technologies in livestock and aquaculture production"- February 27, 2017
A Brief Overview of Performance-Enhancing Technologies and Their Impact on Animal Agriculture, By Dr. Mike Azain, University of Georgia
Briefings Archive
Use of Performance-Enhancing Technologies in Global Livestock Production
February 27, 2017
Food Animal Production in the Genomics Era
October 24, 2016
Access a recording of this Snack & Fact here.
Land-Use Challenges for Animal Agriculture
The briefing, held March 16, 2016, addressed land use and animal agriculture on a worldwide basis, and was based on articles in the October 2015 issue of Animal Frontiers Read more...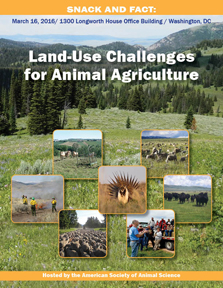 Communicating the Animal Sciences Effectively
The briefing, held December 14, 2015, included a discussion of the challenges and opportunities associated with communicating animal science information with the public, news media, policy makers, and students. Read more...
Contributions of Non-Traditional Meat Animals to Global Food Security and Agricultural Economy
Animal-sourced protein is needed and in high demand. Increasing demand for animal proteins in the 21st century, primarily fueled by an ever-growing human population and improving living standards, cannot be met solely by conventional livestock. Non-traditional animal-sourced foods are becoming highly relevant to global food security. Read more...
Human-Animal Bond: Animals in Our Lives
As animal scientists, our lives and our livelihoods are intimately connected to animals. We study the physiology, nutrition, genetics, management, behavior and health and disease of livestock; companion, laboratory, and exotic animals; and wildlife. In this issue of Animal Frontiers, "The Human–Animal Bond and Domestication: Through the ages…Animals in our lives," we explore the bond between humans and animals and the domestication of cattle and dogs from their ancient predecessors to their modern counterparts. Read more...
Emerging Diseases
For multiple reasons animal and human populations are as vulnerable as ever to new and emerging diseases. Animal scientists and veterinarians worldwide are working to create research linkages and mechanisms by which the scope of the potential problem is understood. This fundamental knowledge will lead to creation and implementation of more effective surveillance programs and disease management strategies. The importance to human health and well being must also be considered. Outbreaks of zoonotic diseases in areas of the world where health care is limiting can create a global food crisis quickly. Thus, the work being conducted to address emerging animal diseases is critical to not only to the livestock industry and food production in the United States but also to the stability of food across the world. Read more
MILK-Not Just Another Food
The important nutritional value of milk, as well as its increased availability, has led to increased consumption of milk throughout the world. The April 2014 issue of Animal Frontiers (volume 4 number2) summarizes the current state of knowledge on the nutritional value of milk, recommendations on the amount of milk in a balanced diet, and the potential role of milk in human health and disease.Read more
Theme: "The contribution of Animal Production To Global Food Security"
On Oct. 28, the American Society of Animal Science (ASAS) brought experts to Washington D.C. for the second "Snack
and Fact." This briefing is based on research presented in the July issue of Animal Frontiers. Dr. Clint Krehbiel, Oklahoma State University, and Dr. Frank Mitloehner, UC Davis, will share information about the rapidly changing field of animal science. As the world population grows, animal producers and researchers are looking for new ways to improve production. Read more
Theme: "Biofuel: Are we playing with our food?"
On Apr. 22, the American Society of Animal Science (ASAS) brought experts to Washington D.C. for the first-ever "Snack and Fact." These researchers provided new perspectives on the impact of biofuels on the feed and food supply.
Most of the attendees were staffers for members of the House Committee on Agriculture. These staffers work on issues like food safety, free trade agreements and the Farm Bill.
The first speaker was Dr. Sylvie Brouder, Professor of Agronomy at Purdue University. Brouder studies the relationship between crops and the environment. At the Snack and Fact, Brouder said biofuel crops could include switchgrass and ryegrass, not just corn. These alternative crops could thrive in areas where corn does not grow well. Continue reading...