Student Resources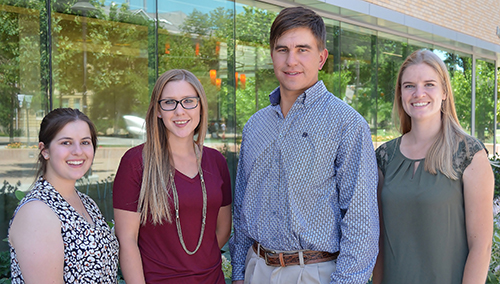 Looking for support during grad school? The American Society of Animal Science is the leading professional society for animal scientists. When you join ASAS, you'll have access to regional and international conferences, amazing networking opportunities and publications.

Membership Benefits
An e-subscription to the journals, Journal of Animal Science, Translational Animal Science, and Animal Frontiers.
Reduced registration costs to the Annual Meeting, all sectional meetings, international meetings and Innovate conferences.
Access to a twice-weekly online newsletter, Taking Stock.
Access to a webinar library of over 400 hours of programming.
Access to our outreach materials at www.AnimalSmart.org.
Eligibility for travel awards and society awards (the ASAS Foundation alone distributes approximately $100,000 in member-used dollars per year).
Access to the ASAS Public Policy programs including the Snack & Fact program, Taking Stock D.C., white papers, webinars, and expert lists.
Opportunities to serve in leadership roles both on boards (national or sectional) and on committees.
Access to the ASAS Career Center, where applicants can learn about positions in academia and industry.
Opportunities to attend numerous yearly workshops: Writing a Scientific Paper, Conducting Oral Presentations, Media Training Workshop, and Mixed Models, etc.
Just for Grad Students
Specific Graduate student programs at all sectional, national and international meetings.
Travel scholarships for graduate students.
Awards at both the sectional and national levels for graduate students.
Specific Graduate Student Leadership positions on the sectional and national board.
Methods for graduate students to become involved in scientific meeting programming.
Networking opportunities.
Graduate student-specific career opportunities.
About Membership
Graduate Student Membership is extremely affordable at $30.00 per year, or to save money you can join for the duration of your Master's Program for $60.00 or for the duration of your PhD program for $90.00.
Join ASAS this year and start your career out strong!