National Awards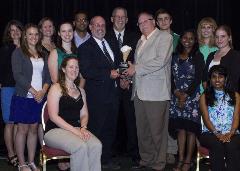 2017-2018 National Awards deadline will be March 1, 2018
2017 National Award Recipients

ASAS Fellow Extension
Steven Washburn, North Carolina State University
Dr. Steven Washburn, from a small farm in West Virginia earned degrees from WestVirginia University (BS, 1971; PhD, 1985) and UW - Madison (MS, 1973). Steve joinedASAS in 1972 and started his career with extension in WI and WV. Since 1986 hehas been an extension specialist at NC State University. Steve led early studies on theEZ-Breed CIDR, now widely used to synchronize estrus and ovulation in cattle. Steve'sleadership of multidisciplinary teams helped establish a pasture-based research dairy atCEFS leading to funding for multiple projects on research questions relevant to pasturebased systems and projects related to conservation, sustainable agriculture, and local foods. The CEFS team received the USDA Secretary's Honor Award in 2012. Total grantsupport for Steve's programs exceeds $5,000,000 which has supported 376 extensionand research publications and electronic products in various forms. Publications havebeen cited over 1,750 times, reflecting the quality and impact of his work. He has been amentor to many graduate students, undergraduate researchers, international interns, anddairy challenge students. Steve has received several awards including the DeLaval DairyExtension Award in 2016, the AFGC Grasslander Award in 2017, and Fellow awards inboth ASAS and ADSA in 2017. Steve and Connie have two adult children, Wendy andAndy.
Morrison Award
Ronnie D. Greene, University of Nebraska-Lincoln
Dr. Green currently serves as the 20th Chancellor of the University of Nebraska- Lincoln. He received B.S. and M.S. degrees in animal science from Virginia Tech and Colorado State University, respectively. He completed a doctoral program jointly at the University of Nebraska and the USDA-ARS U.S. Meat Animal Research Center in animal breeding and genetics.
Dr. Green previously served on the animal science faculties of Texas Tech University and Colorado State University. He has also served as national program leader for animal production research for USDA-ARS and as executive secretary of the White House's working group on animal genomics, where he facilitated the international bovine, porcine, and ovine genome sequencing projects. He also served as senior global director for Pfizer Animal Health's animal genetics business. Dr. Green is author of over 130 refereed journal papers and abstracts, nine book chapters and 56 symposia papers, and has spoken in 43 U.S. states and 21 countries around the world.
Dr. Green and his wife Jane are the proud parents of sons Justin and Nate, daughters Kelli and Regan and one granddaughter, Charlotte.