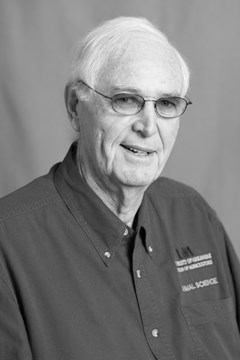 Fund Purpose:
The purpose of this fund, created in March 2018 and fully funded in October of 2019, is to provide funding for a Platform Speaker at the Midwest Meetings on early pig health and/or nutrition. The invited speaker will give a 45 minute talk anchoring a session of 12 minute talks.
Biographical Sketch:
Dr. Charles Maxwell received his BS and MS from University of Georgia and his PhD degree from University of Wisconsin. He started his career in a research and teaching position as a swine specialist at Oklahoma State University and served in that capacity for 28 years. Since 1996, he has held the position of professor of swine nutrition and management at the University of Arkansas. Dr. Maxwell has made major contributions to the swine industry. His research has emphasized nutrition of the neonatal and early-weaned pigs and has resulted in a better understanding of the effect of management systems on performance of young pigs. He has published 79 refereed journal articles, 188 abstracts and 153 miscellaneous publications.
Club Founders
Benjamin Bass
Casey Bradley
Dari Brown
Ellen Davis
Brenda De Rodas
Jason Frank
Michael Looper
Tom Rehberger
Meghan Wulster-Radcliffe & Scott Radcliffe
Daniel Sohn
Zinpro Corporation
Past Lectures:
2023 Maxwell Lectureship
Role of amino acids and protein in health-challenged nursery pigs.
Daniel A. Columbus, Research Scientist and Adjunct Professor, Prairie Swine Centre, Inc., Saskatoon, Saskatchewan
2022 Maxwell Lectureship
Large scale practical nutrition research sharing: Feeding the E. coli challenged pig: What we have learned to date.
Mandy J. Gerhart, JBS
2021 Maxwell Lectureship
Why resist: Harnessing immune-microbiome interactions for improved swine gut health.
Crystal L. Loving, USDA-ARS-National Animal Disease Center
2020 Maxwell Lectureship
Jiangchao Zhao, University of Arkansas