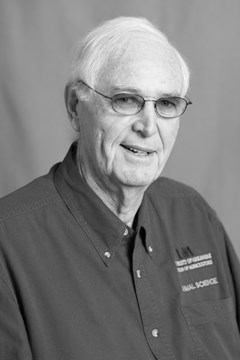 Fund Purpose:
The purpose of this fund, created in March 2018, is to provide funding for a Platform Speaker at the Midwest Meetings on early pig health and/or nutrition. The invited speaker will give a 45 minute talk anchoring a session of 12 minute talks.
Biography:
Charles Maxwell received his BS and MS from University of Georgia and his PhD degree from University of Wisconsin. He started his career in a research and teaching position as a swine specialist at Oklahoma State University and served in that capacity for 28 years. Since 1996, he has held the position of professor of swine nutrition and management at the University of Arkansas. Maxwell has made major contributions to the swine industry. His research has emphasized nutrition of the neonatal and early-weaned pigs and has resulted in a better understanding of the effect of management systems on performance of young pigs. He has published 79 refereed journal articles, 188 abstracts and 153 miscellaneous publications.
We are actively fundraising to establish this Appreciation Club. The fundraising Committee - Dr. Ellen Davis, Dr. Brenda De Rodas, Dr. Dari Brown and Dr. Casey Bradley, has set a goal of $25,000.00 to fully fund the Charles Maxwell Appreciation Club. To reach this goal, the Committee is appealing to students and colleagues of Dr. Maxwell and corporations with interest in supporting this field of work to contribute to this Appreciation Club.
Value of club as of 10/2018: $6,800
To make a donation click here or you may send a donation by mail to: ASAS Foundation, PO Box 7410, Champaign, IL 61826. If you prefer, please contact the ASAS office at 217-356-9050 and we will take your pledge and generate an invoice for your donation.
CLUB FOUNDERS:
Benjamin Bass
Casey Bradley
Dari Brown
Ellen Davis
Brenda De Rodas
Jason Frank
Michael Looper
Meghan Wulster-Radcliffe & Scott Radcliffe
Daniel Sohn
Zinpro Corporation