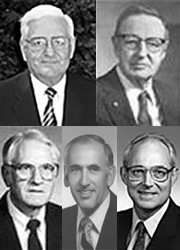 Fund Purpose:
This club was formed to honor one of the most important animal science collaborations in ASAS history. The collective team of Drs. Larry Cundiff, Gordon Dickerson, Keith Gregory, Bob Koch and Dale Van Vleck had, arguably, the greatest impact in the field of livestock breeding and genetics of all time. Though their team work is most well known in beef cattle breeding and genetics with the U.S. Meat Animal Research Center, their collective work also had major impacts in swine, sheep, poultry and dairy cattle breeding around the world with their careers at USDA-ARS, academia and private industry. With the addition of Larry Cundiff in 2012, four of the career USDA-ARS scientists in the team have been named to the USDA-ARS Hall of Fame—an unprecedented accomplishment in the agency's history that speaks to the immense impact of this team during their careers.
The original endowment goal for this Cundiff, Dickerson, Gregory, Koch, Van Vleck ("CDGKV") Appreciation Club was $50,000 to enable annual funding of symposium speakers in beef cattle breeding at the ASAS Annual Meeting. In the years when a World Congress on Genetics Applied to Livestock Production is held, the proceeds from the fund will be used to support graduate student travel to attend the Congress. Due to generosity of our members and to collaboration with WCGALP, we have far exceeded our goals.
Since inception, this fund helped support travel for 20 young scientists to travel to and present at the World Congress on Genetics of Applied Livestock Production (WCGALP) meetings and has hosted genetics symposium at the ASAS annual meetings.
Club Founders:
WCGALP 2014
Robert Bellows
Gary L. Bennett
Heather Burrow
Ronald K. Christenson
Alan Emsley
J. Joe Ford
Jane Green
Ronnie Green
Jane Green
Wanda Gregory
Suzanne M. Hubbard
Michelle Mousel
Rafael Nunez-Dominguez
Irvin T. Omtvedt
Matthew Lee Spangler
Rebecca Splan
Scott Radcliffe
R. Mark Thallman
Curtis Van Tassell
Meghan Wulster-Radcliffe