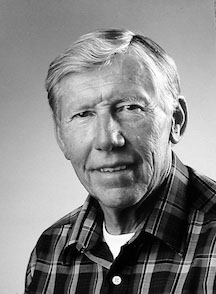 Fund Purpose:
Dr. R. L. Preston asked that the funds be used to fund activities that "Keep science in Animal Science." Dr. Preston has contributed immensely to our knowledge of beef cattle nutrition, growth physiology, and management, and welfare. One of the options under consideration is an annual award given to innovative research presented at the National ASAS meetings bearing Dr. Preston's name.

The Rodney L. Preston Appreciation Club will provide a public acknowledgment of Dr. Preston's professional accomplishments, which have been national and international in scope.

Biographical Sketch:
Dr. R. L. Preston received his B.S. in Animal Nutrition with High Distinction from Colorado State University, and his M.S. and Ph.D. in Animal Nutrition and Veterinary Physiology from Iowa State University. He served two years in the USAF as Lt., Biomedical Lab, WPAFB doing research on nutrition and radiation effects, and the USAF Reserve teaching two summers at the USAF Academy. He was Professor of Animal Science at the University of Missouri and The Ohio State University, and was Chm. of the Animal Sciences Department at Washington State University. At Texas Tech University, he held the Thornton Endowed Chair in Animal Science, Director of the Burnett Center for Beef Cattle Research and Teaching, named Horn Distinguished Professor and Professor Emeritus.
Dr. Preston received the Outstanding Junior Faculty Member Award at the University of Missouri, an NIH Special Fellowship for research in veterinary biochemistry the Netherlands, the Texas Tech University, College of Agricultural Sciences Research Award and the Texas Tech Dads and Moms Association Barnie Rushing Faculty Distinguished Research Award. He holds honorary memberships in Alpha Zeta, Gamma Sigma Delta, Phi Kappa Phi and Sigma Xi and is listed in American Men and Women in Science. He was a member of the American Institute of Nutrition, Society for Experimental Biology and Medicine and the Plains Nutrition Council. He was Editor for the Applied Section of the Journal of Animal Science and a Past-President of the American Society of Animal Science; this society awarded him the Animal Industry Service Award, Fellow Award and the Retiree Service Award. Rod received the Professional Excellence Award and was made a Legend in Feedlot Cattle Nutrition from the Plains Nutrition Council. He served on the Federation of Animal Science Societies Food Safety, Animal Health and Animal Drug Committee and was a member of the National Academy of Sciences-National Research Council Committee on Animal Nutrition, Council for Agriculture Science and Technology Board of Directors, Am. Assoc. for the Accreditation of Laboratory Animal Care Board of Trustees, Chm. of the Intersociety Animal Research Priorities Task Force, U.S. Office of Technology-Animal Technology Assessment Panel, Animal Health Industry Advisory Committee and many other committees.
Dr. Preston's areas of research and teaching are animal nutrition, protein, energy and mineral utilization, growth, body composition and anabolic agents. He is author/co-author of 114 journal articles, 163 abstracts of papers presented at professional meetings, 14 book chapters and 435 technical and extension reports, popular articles and letters to editors. In 2004, he co-authored "Fifty Years of Pharmaceutical Technology and Its Impact on the Beef We Provide to Consumers." and publishes annually a Table of Feed Composition for Beef Cattle and Sheep in BEEF magazine. He has been the major advisor for 21 M.S. and 17 Ph.D. students. He served on two USAID design or study teams in the countries of Lesotho and Egypt. He has written a biography, Stetson, Pipe and Boots, about a former Colorado cattleman and governor, Dan Thornton, published in 2006.
Club Founders:
David and Carol Anderson
Steve Bartle
Ronnie Castlebury
GW Davis
Danny Gene Fox
Harold Hafs
Deana Hancock
Glenn Hoffsis
Dave Hutcheson
George Jesse
Kendall Karr
Robert Kauffmann
James Lauderdale
Delbert Miles
William Olson
Kevin Pond
Robbi Pritchard
Scott Radcliffe
Arthur Raun
David Schnakenberg
Zach Kidd Foster Smith
Anna Rose Taylor
Linda Vroegindewey
Meghan Wulster-Radcliffe
To view the original fund letter click here.