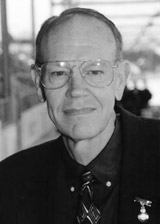 This fund was organized to recognize the contributions of Dr. Ritchie to the field of beef cattle extension. The money is used to support a symposium on issues important to Beef Cattle Extension at the Midwest ASAS meetings.
Dr. Ritchie is the author or coauthor of 200 scientific or technical articles, 195 Extension papers, 350 trade journal articles and more than 400 newsletter articles. Ritchie has spoken at livestock programs in 38 states, 7 Canadian provinces, 6 Australian states, Argentina, Europe and Mexico.
He has also officiated the national shows of 13 beef cattle breeds and seven swine breeds in the U.S. and Canada. In 1994, Ritchie was inducted into the Saddle and Sirloin Portrait Club, the highest honor awarded in the U.S. livestock industry.
Fund value as of 2/28/2021: $20,288
2021 Harlan Ritchie Symposium: Beef Industry Infrastructure
Chair: K. Bruns, University of Nebraska
Sponsor: ASAS Foundation, Harlan Ritchie Appreciation Club
Presented: Tuesday, March 9, 2021
The Importance of Recognizing Economic Factors Influencing the Beef Industry.
B. Rishel, Rishel Angus
How Will the Purebred Association Adapt to a Changing Beef Industry?
M. McCully, American Angus Association
Genetics Industry Infrastructure: How Are Artificial Insemination Organizations Adapting to Changes in the Beef Industry?
B. Harstine, Select Sires, Inc.
What Is the Impact of Dairy Influence Cattle on the Traditional Beef Industry Structure?
B. J. Johnson, Texas Tech University
The Beef Industry in a Post-Pandemic World.
D. S. Peel, Oklahoma State University
2020 Harlan Ritchie Symposium
Chair: Robert Weaber, Kansas State University
Sponsor: ASAS Foundation, Harlan Ritchie Appreciation Club
Presented: Tuesday, March 3, 2020
Consumer Perceptions of Beef and Beef Production.
R. Husted, National Cattlemen's Beef Association
Where We Are at and Evolving in Management Systems That Are Consumer Focused?
J. B Morgan, Colorado State University
Carcass Composition and Leanness-industry Trends and Needs.
D. McKenna, Tyson Fresh Meats, Inc.
The Impact of Changing Consumer Preferences on Production and Management Practices at Cow-calf Level.
R. H. Pritchard, Annawan Cattle, LLC.
The Future of Genome Editing in Food Animal Species.
A. L. Van Eenennaam, University of California, Davis
2019 Harlan Ritchie Symposium
Chair: Daniel Shike, University of Illinois at Urbana-Champaign
Sponsor: ASAS Foundation, Harlan Ritchie Appreciation Club
Presented: Wednesday, March 13, 2019
Mature Cow Size and Impacts on Cow Efficiency.
D. Lalman, Oklahoma State University
Impacts of dam age and milk production on cow/calf profitability.
T. Mulliniks, University of Nebraska
Traceability
J. Butler, Beef Marketing Group
Current and future feedlot research needs: An industry perspective.
B. Holland, Cactus Feeders
2018 Harlan Ritchie Symposium
Chair: Dan Loy, Iowa State University
Sponsor: ASAS Foundation, Harlan Ritchie Appreciation Club
Presented: Wednesday, March 14, 2018
Current Trends in Beef Cattle Genetic Evaluation.
M. L. Spangler, University of Nebraska-Lincoln
New Technologies in Cattle Reproduction and the Correlated Acceleration of Genetic Gain.
M. F. Allan, Trans Ova Genetics
Feed Yard Performance Trends and Analysis.
P. T. Anderson, Midwest PMS, LLC
Genomewide Association Analysis Identifies Quantitative Trait Loci Associated with Clinical and Subclinical Bovine Respiratory Disease.
H. L. Neibergs, Washington State University
2017 Harlan Ritchie Symposium
Chair: C. R. Dahlen, North Dakota State University
Sponsor: ASAS Foundation, Harlan Ritchie Appreciation Club
Presented Wednesday, March 15, 2017
Beef Cattle Type and Selection Tools Have Evolved to Meet Consumer Demands and Maximize Producer Profitability.
D. W. Shike, University of Illinois at Urbana-Champaign
Factors Contributing to Increased Quality Grade of U.S. Fed Cattle.
W. J. Sexten, Certified Angus Beef, LLC
Where are We Going as Cattle Get Bigger?
K. W. Bruns, University of Nebraska-Lincoln
Beef Yield Grading: History, Issues and Opportunities.
T. E. Lawrence, West Texas A&M University
2016 Harlan Ritchie Symposium: 2016 Beef NRC
Chair: W.J. Sexten, Certified Angus Beef, LLC
Sponsor: ASAS Foundation, Harlan Ritchie Appreciation Club
Presented Tuesday, March 15, 2016
Alternative cow-calf production systems: Opportunities and challenges
R.J. Rasby, University of Nebraska-Lincoln
Implementing the 2016 Beef NRC changes in cow herd nutrition
Ron Lemenager, Purdue University
Implementing the 2016 Beef NRC changes in growing and finishing cattle
Galen Erickson, University of Nebraska-Lincoln
Transparency in the food system: Communicating science to the consumer
J. Jones, The Center for Food Integrity

2015 Harlan Ritchie Symposium: Have we entered a new era in beef production
Chair: Larry R. Corah, Certified Angus Beef, LLC.
Sponsor: Harlan Ritchie Appreciation Club, ASAS Foundation
Presented Tuesday, March 17, 2015
Trends to watch in cattle nutrition
G. P. Lardy, North Dakota State University, Fargo
Cow herd investment opportunities during a period of prosperity
W. J. Sexten, Division of Animal Sciences, University of
New innovations in how we sell beef
B. E. Wasser, National Cattlemen's Beef Association, Centennial, CO
Tracking beef industry dollars
N. Speer, Bowling Green, KY

2014 Harlan Ritchie Beef Symposium: Today's And Tomorrow's Beef Industry
Chair: Maynard Hogberg, Iowa State University
Sponsor: Harlan Ritchie Appreciation Club, ASAS Foundation
Presented Wednesday, March 19, 2014
Today's and Tomorrow's Application of DNA Genomics
K. Andersen, Zoetis Animal Genetics
Tomorrow's Feedlot Industry
T. Brink, formerly of JBS Five Rivers Cattle Feeding
Future Applications of Reproductive Technologies in the Beef Industry
G. Seidel, Colorado State University
Current State of Distillers Utilization
G. Erickson, University of Nebraska-Lincoln

2013 Harlan Ritchie Beef Symposium
Chair: Larry Corah, Certified Angus Beef Program
Sponsor: Harlan Ritchie Appreciation Club, ASAS Foundation
Presented Tuesday, March 12, 2013
The future of genomic selection in animal agriculture
J. Taylor, University of Missouri
Industry issue or opportunity – Increasing carcass weights?
J. Stika,Certified Angus Beef LLC
Creating Customer-Centric Beef Production Systems
N. Speer, Western Kentucky University
Economic rewards of hitting consumer targets for beef
S. Brown, University of Missouri