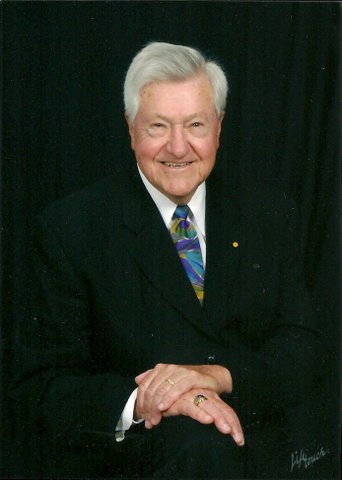 Fund Purpose:
This fund was formed to recognize the contributions of Dr. Louis J. Boyd to education and to the American Society of Animal Science. This fund will be used in conjunction with the Zimbelman, Hafs, Britt, and Glenn clubs to increase funding for public policy interns in Washington, DC.
Applications for 2023 are now being accepted. Please click here for requirements and application instructions: ASAS 2023 D.C. Interns.
Biographical Sketch:
After Dr. Louis (Louie) Boyd obtained a Ph.D. in Reproductive Physiology from the University of Illinois (1956), he accepted faculty appointments first at the University of Tennessee and then at Michigan State University. His research took him to England for a year on sabbatical leave. In 1972, Dr. Boyd was chosen to be the Chair of the Division of Animal Science at the University of Georgia, including six departments at three locations. The cooperative program between the University of Georgia and Fort Valley State College is one example of Louie's creative administrative initiatives. Later, he headed the Sponsored Programs for the College of Agriculture, and their International Agriculture Program. As emeritus professor, he led the University of Georgia College of Agriculture Advisory Council, and continued his service with numerous state and national committee and board assignments.
Two of Dr. Boyd's contributions illustrate his wide influence. He was coauthor (with Dr. Harold Hafs) of Dairy Cattle Fertility and Sterility, the first of the Hoard's Dairyman books. Over 400,000 copies of this book have been distributed in four languages. It has been reprinted several times, the later editions with other authors. As a second example, early in his Extension work, Louis found dairy farmers often bred heifers to Angus bulls to reduce birth size of calves and minimize calving difficulties. Unfortunately, this reduced selection options for replacing older cows. Consequently, as a result of his research, he was the first to publish that birth weight of their calves varies among bulls, both within dairy breeds and within beef breeds. Some Holstein bulls sire smaller calves than some Angus bulls. Therefore, dairy bulls known to sire smaller calves may be chosen for breeding heifers, a finding that remains as standard option for farmers in selecting AI stud bulls.
Dr. Boyd was named a Fellow of American Dairy Science Association (ADSA), and a Fellow of the American Society for Animal Science (ASAS). He was a member of several Boards of Directors including Coble Dairies, the Council for Agricultural Science and Technology (CAST), ASAS, ADSA, and the ASAS Foundation. He also contributed his expertise in several capacities such as President of CAST, and the Editorial Board of the Professional Animal Scientist. Louis was one of the first awardees in the Hall of Distinguished Alumni of the College of Agriculture at the University of Kentucky and he has been inducted into the Georgia Agricultural Hall of Fame.
Past Awards:
2022 Intern
Madeleine Ring, Delaware Valley University Read more...

2018 Interns
Megan Anderson, The Pennsylvania State University
Elizabeth Frey, Michigan State University Read more...
Stephanie McBath, Cornell University Read more...
Danny Munch, University of Connecticut Read more...
Miriam Snider, University of Kentucky
2017 Interns
Rachael Buzanowski, Kansas State University Read more...
Alyssa Condon, University of Connecticut Read more...
KathrynAnn Fields, Texas A&M University Read more...
Taylor Herren, California State University, Chico
Ben Rietmann, Oregon State University Read more...
Tyler Madison Roberts, Texas A&M University Read more...
2016 Interns
Jamee Bell, Tarleton State University Read more...
Alexandra Cantrell, Texas A&M University Read more...
Cordelia Hiers, Murray State University Read more...
Morgan Jones, University of Minnesota Read more...
Olivia Woods, Oregon State University Read more...
2015 Interns
Pierce Bennett, Kansas State University Read more... Listen to Podcast below.
Tiffany Hebb, Tuskegee University Read more...
Maci Lienemann, University of Nebraska Read more... Listen to Podcast below.
Ashley Weaver, The Ohio State University Read more...
2014 Interns:
Morgan Gaither, Colorado State University - Fort Collins
Lillian Rogers, University of Vermont
2013 Interns:
Jessie Nickerson, West Virginia State University
Jordan Hieber, North Dakota State University
2012 Interns:
Chris Gambino, Washington State University
Megan Bryant, Oklahoma State University
2011 Interns:
Benjamin Williamson, University of Arkansas
2010 Intern:
Carolyn Gravatte, University of Kentucky
Intern Experiences
Podcast with Pierce Bennett
Public Policy Intern Pierce Bennett talks about his experiences in Washington D.C.
Date: August, 2015
Maci Lienemann Podcast
Public Policy Intern, Maci Lienemann, talks about her experiences in Washington D.C.
Date: August, 2015