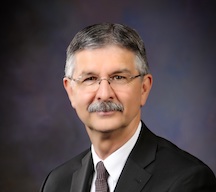 Fund Purpose
This club is being formed to recognize the contribution of Dr. Michael Galyean to ruminant nutrition and to the American Society of Animal Science. Money from the club will be used yearly to support an invited paper in the Journal of Animal Science focusing on nutrition and management of growing/finishing beef cattle.
We are actively fundraising for this Appreciation Club. The fundraising Committee - Dr. Todd Armstrong, Dr. Greg Lardy and Dr. Mike Hubbert, has set a goal of $25,000.00 to fully fund the Michael Galyean Appreciation Club. To reach this goal, the Committee is appealing to students and colleagues of Dr. Gaylean and corporations with interest in supporting this field of work to contribute to this Appreciation Club.
To make a donation click here or you may send a donation by mail to: ASAS Foundation, PO Box 7410, Champaign, IL 61826. If you prefer, please contact the ASAS office at 217-356-9050 and we will take your pledge and generate an invoice for your donation.
Biographical Sketch
Michael Galyean is currently Dean of the College of Agricultural Science and Natural Resources at Texas Tech University, where he is a Paul Whitfield Horn Professor and Thornton Distinguished Chair in the Department of Animal and Food Sciences. He received his B.S. in Agriculture from New Mexico State University in 1973, and his M.S. in Animal Science (1975) and Ph.D. in Animal Nutrition (1977) from Oklahoma State University. He joined the faculty of the Department of Animal and Range Sciences at New Mexico State University in 1977, working on the main campus until 1990, when he moved to Clayton, NM to serve as the Superintendent of the Clayton Livestock Research Center. In 1996, he accepted a position as Professor of Animal Science with West Texas A&M University/Texas A&M University in Canyon, TX, where he worked until 1998, when he moved to his present position with Texas Tech University.
Dr. Galyean and his students have authored 240 peer-reviewed journal articles, 59 invited papers and book chapters, 83 published proceedings and experiment station articles, 72 published progress reports, and 194 published abstracts. His published works have been cited more than 4,608 times. Twenty-nine M.S. students, 33 Ph.D. students, and 9 post-doctoral research associates have worked under his guidance, and his research has been supported by more than $2.6 million in grant funds. He has been recognized by several awards, including the Young Scientist Award of the Western Section American Society of Animal Science (ASAS) in 1988, the Distinguished Research Award of the College of Agriculture and Home Economics, New Mexico State University in 1989, the American Feed Industry Association Ruminant Nutrition Research Award of ASAS in 1999, the Outstanding Researcher Award of the College of Agricultural Sciences and Natural Resources, Texas Tech University in 2004 and 2005, the Texas Tech University President's Academic Achievement Award in 2005, the ASAS Animal Management Award in 2006, the Fellow Award of ASAS in 2010, the ASAS Morrison Award in 2012, and the FASS-AFIA New Frontiers in Animal Nutrition Award in 2013. He served on the NRC Subcommittee on Beef Cattle Nutrition from 1992 to 1997 and the NRC Committee on Animal Nutrition from 1997 to 2000.
Dr. Galyean is a member of the American Society of Animal Science (ASAS), the American Registry of Professional Animal Scientists (ARPAS), the American Dairy Science Association, and the American Society for Nutrition. He served as Secretary-Treasurer, President-Elect, and President of the Western Section of ASAS from 1994 to 1996 and as a member of the Board of Directors of ASAS at various times for a total of seven years. From 2006 to 2009 he served as President-Elect, President, and Past-President of ASAS. In addition, Dr. Galyean served three terms on the Editorial Board of the Journal of Animal Science, one 3-year term as a Section Editor, and as Editor-in-Chief from 2002 to 2005. He served as President-Elect, President, and Past-President of ARPAS from 2012 to 2015. Dr. Galyean is Chair of the NRC Committee on Nutrient Requirements of Beef Cattle, and he continues to be active in beef cattle nutrition and management research.
Value of club as of 10/2018: $17,775
Donors to Date
Todd Armstrong
Stephen Bachman
Elizabeth Domby
Nathan Elam
Michael & Charlotte Galyean
Stacey Gunter
Dennis Hallford
Debora Hamernik
Gretchen Hill
Maynard Hogberg
Gregory Lardy
Robert Lee
Meghan Wulster-Radcliffe and Scott Radcliffe
Ryan Reuter
Milt Thomas
Steven Zinn
Zinpro Corporation