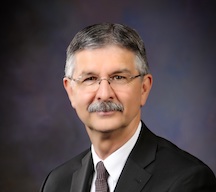 Fund Purpose:
This club recognizes the contribution of Dr. Michael Galyean to ruminant nutrition and to the American Society of Animal Science. Money from the club will be used yearly to support an invited paper in the Journal of Animal Science focusing on nutrition and management of growing/finishing beef cattle.
Biographical Sketch:
Michael Galyean received his B.S. in Agriculture from New Mexico State University (NMSU) in 1973, and his M.S. in Animal Science (1975) and Ph.D. in Animal Nutrition (1977) from Oklahoma State University (OSU). He joined the faculty of the NMSU in 1977, working on the main campus until 1990, when he moved to the Clayton Livestock Research Center in Clayton, NM, to serve as Professor and Superintendent.
In 1996, he accepted a position as Professor of Animal Science with West Texas A&M University/Texas A&M University in Canyon, TX, where he worked until 1998, before moving to Texas Tech University (TTU) to become the Thornton Distinguished Chair in Animal Science. In 2006, he was named a Paul Whitfield Horn Distinguished Professor, the highest faculty rank at TTU. He served as the Dean of the College of Agricultural Sciences and Natural Resources at TTU from 2012 to 2016 and as Provost and Senior Vice President for Academic Affairs from 2016 to 2021. In 2021, he returned to the faculty of the Department of Veterinary Sciences at TTU.
Dr. Galyean and his students and colleagues have authored 259 peer-reviewed journal articles, 60 invited papers and book chapters, and numerous other proceedings, progress reports, experiment station articles, and abstracts. Twenty-nine M.S. students, 33 Ph.D. students, and 9 post-doctoral research associates have worked under his guidance, and his research has been supported by more than $2.7 million in grant funds.
Dr. Galyean served as a member of the National Research Council Subcommittee on Beef Cattle Nutrition and the Committee on Animal Nutrition and served as chair of the 2016 National Academy of Sciences, Engineering, and Medicine Committee on Nutrient Requirements of Beef Cattle. He was President of the Western Section of the American Society of Animal Science (ASAS) and three times a member of the ASAS Board of Directors. In addition, he served three terms on the Editorial Board of the Journal of Animal Science, one term as a Section Editor, and he was Editor-in-Chief from 2002 to 2005. He also served as President-Elect, President, and Past-President of both ASAS (2006 to 2009) and the American Registry of Professional Animal Scientists (2013 to 2015). He was named a Fellow of ASAS in 2010, and he received the ASAS Morrison Award in 2012, the FASS-AFIA New Frontiers in Animal Nutrition Award in 2013, the ASAS Western Section Distinguished Service Award in 2016, and was inducted into the Legends of Feedlot Nutrition by the Plains Nutrition Council in 2020. In 2021, he received a Distinguished Alumni Award from the Ferguson College of Agriculture at OSU, and in 2022, he was presented the Distinguished Alumni Award from the College of Agricultural, Consumer and Environmental Sciences at NMSU.
Club Founders:
Stephen Bachman
Cargill Sweet Bran
Nathan Elam
Michael & Charlotte Galyean
Dennis Hallford
Deb Hamernick
Maynard Hogberg
Robert Lee
Zinpro Corporation
Steven Zinn