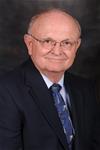 This fund was formed to recognize the contributions of Dr. Robert P. Wettemann to education and to the American Society of Animal Science. This fund will be used to provide support to graduate education and scientific discovery.
Dr. Robert P. Wettemann is a Regents Professor and his career includes 42 years of research and teaching in the Department of Animal Science at Oklahoma State University. Bob obtained his B.S. at the University of Connecticut and M.S. and Ph.D. degrees from Michigan State University. His research evaluates endocrine mechanisms controlling reproductive processes and the application of findings to improve reproduction in cattle and swine. Experimental approaches span from evaluating control of synthesis and secretion of gonadotropins to determining the effect of nutrition on follicular growth and pregnancy rate in range beef cows.
Dr. Wettemann enjoys research, discovery, and mentoring students. He is the author or co-author of more than 630 publications, including 139 refereed journal articles and chapters. He has presented seminars in 12 countries. He has mentored 53 M.S., Ph.D., and postdoctoral recipients, and many of his students are on faculties at major universities or research centers. Bob recognizes the need to utilize discoveries and encourages students to engage in fundamental and applied research.
Dr. Wettemann has attended 45 annual meetings of ASAS, was President of ASAS in 2009, and served on the ASAS Foundation and FASS Boards. He received the Physiology and Endocrinology Award, the Animal Management Award, and is a Fellow in ASAS. Bob and Grace have three children and five grandchildren.
To make a donation click here or you may send a donation by mail to: ASAS Foundation, PO Box 7410, Champaign, IL 61826. If you prefer, please contact the ASAS office at 217-356-9050 and we will take your pledge and generate an invoice for your donation.
Value of club as of 10/2018: $18,470
The requirements for the Wettemann Graduate Scholar in Physiology Award can be found here.
2019 Recipient of the Wettemann Graduate Scholar in Physiology Award:
Pedro L. P. Fontes, Texas A&M University
Pedro L. P. Fontes received his Doctor of Veterinary Medicine from São Paulo State University (UNESP -Brazil) in 2014, where he also worked as Director of Beef Production in a junior consultancy company, Conapec Jr.. He then worked as a Graduate Research Assistant and Masters Student at University of Florida, with a research focus on beef cattle reproductive physiology. Exposure to research and extension during his Masters sparked his interest on pursuing a Ph.D. Therefore, he is currently working with Dr. Lamb as a Graduate Research Assistant and Ph.D. candidate in the Department of Animal Science at Texas A&M University, where his research focuses on strategies to improve reproductive efficiency in beef production systems, as well as the mechanisms controlling in utero programming of postnatal performance in cattle. During his graduate career, Pedro has published 10 manuscripts in peer-reviewed journals, 1 book chapter, 3 conference proceeding, 33 abstracts, and 19 extension articles.
2018 Recipient of the Wettemann Graduate Scholar in Physiology Award:
Mathew S. Crouse, North Dakota State University
Matthew began working at North Dakota State University in 2014 as the Nutrition Research Specialist while simultaneously pursuing his M.S. degree. Matthew received his M.S. in Ruminant Nutrition from NDSU under Dr. Joel Caton in 2016, investigating the effects of nutrient restriction of beef heifers during early gestation on concentrations of hexoses and amino acids in utero-placental fluids, as well as nutrient transporter expression and abundance in utero-placental tissues. Matthew is currently working on a PhD in Nutritional Physiology at NDSU under Drs. Alison Ward and Joel Caton investigating the effects of nutrient restriction of beef heifers during the first 50 days of gestation on the fetal transcriptome and epigenome. Matthew has authored or co-authored 11 refereed manuscripts, 18 abstracts, 11 proceedings papers, and has given 2 invited presentations. Matthew received over $130,000 in grants as PI or Co-PI to support his research including a NIFA-ELI Predoctoral Fellowship.