President's Message
Dear Members and Partners,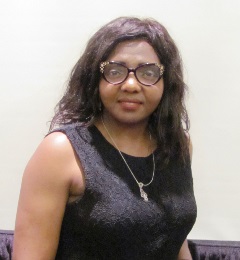 Your 2018-2019 CSAS Executive Committee assumed office after the 2018 CSAS Award's Ceremony in Vancouver at the Joint ASAS-CSAS Annual Meeting. I am honored and yet humbled to serve as the chief steward to navigate the affairs of our association for this year. The executive consider serving you an honor and privilege, and we pledge to perform our duties to the best of our abilities. We also pledge to sustain the society for its various roles and values to you and the society at large.
Furthermore, I am very excited to welcome new executive committee members whom I anticipate will contribute novel ideas for the good of the association, and to continue to work with longstanding and experienced members of the committee. As you all know, my past experiences of serving you as Eastern director, Secretary, President-elect and now President will help me greatly in this task. However, I solicit your support, ideas and participation, for together we can make CSAS a great and rewarding society.
This year, our society will continue to foster cooperation with sister organizations like the American Society of Animal Science, the American Dairy Science Association, the Canadian Meat Science Association, the European Association for Animal Production, the British Society of Animal Science and the World Association for Animal Production in order to keep you
at the forefront of innovation and knowledge. We will also intensify efforts in building and supporting our students, who are the next generation of animal science professionals. Furthermore, I will leverage my experiences to form a bridge with our partners and universities to build a strong foundation for future animal scientists.
Our primary mandate this year is to increase our numerical strength, financial standing and relevance to our students, industry partners, the society and the scientific community. We will continue to reach out to you through CSAS matters, Animal Frontiers magazine and World Association of Animal Production newsletter.
The past year was a relatively healthy one for our society. A slight increase in our membership was seen for the first time in four years. Our financial standing was improved thanks to our partners (Canadian Science Publishing, Jefo Canada, etc.) and your faithfulness in paying your membership dues and meeting registrations. The dedication and hard work of last year's Executive board led by Dr. Michael Steel is deeply appreciated. This year, we will intensify efforts to continue to grow our society both numerically and financially into a vibrant and flourishing platform for our students, partners and the animal science community. To achieve these goals, your full participation and support as members and partners is greatly needed.
I look forward to welcoming your ideas and working with you all to continue to grow our society into a vibrant body as we all look forward to a better and brighter future.
Respectfully,
Dr. Eveline Ibeagha-Awemu
CSAS President, 2018-2019
Become a CSAS Member!

Membership is open to persons currently or previously employed in research, teaching, administration, extension, production, marketing, or otherwise interested in any field pertaining to the animal industry. There are three categories for membership including regular members, retired members, and student members (undergraduate or graduate). Student applicants must complete the education profile when signing up.