2020 Western Section Award Recipients
Distinguished Teacher Award
John Campbell, New Mexico State University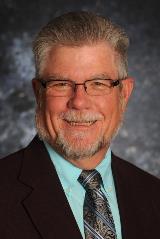 Born and raised in West Texas with family agricultural ties to Quarter Horses, Sheep and goats. He was a very active 4-H member in Pecos County participating in all kinds of projects. He graduated from Fort Stockton High in 1977. He attended Texas A&M University and received his BS degree in 1981 and MS in 1983 both in Animal Science. While at TAMU he judged on the wool and livestock teams and coached the wool team while working on his MS. He worked for Purina Mills after graduation in Southeast Texas. In 1990, he began his Ph.D. studies in Reproductive Physiology. After completion of his degree in December of 1992, he accepted a Post Doc appointment at Massey University in Palmerston North New Zealand. Upon successful completion of his Post Doc he returned to Las Cruces. He worked for the Coulston Foundation in Alamogordo with the great apes and then took a job as Study Director for Southwest Bio Labs in Las Cruces. He joined his wife's successful Physical Therapy practice in 2001 as the Business Manager and remained there until January of 2009 when he joined the Animal and Range Science Department as the Judging Team Coordinator and Instructor. He is currently an Associate College Professor who primarily teaches lower level Animal Science course along with swine production. He has been active in NMSU Faculty Senate representing the Non-Tenure Track Faculty for six years, serves on several University, College and Departmental committees, is a Faculty Fellow for student housing and looks forward to taking students on study abroad trips each year.
Extension Award
Megan Van Emon, Montana State University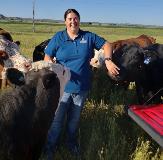 Dr. Van Emon received her BS in Animal Science at Purdue University, a M.S. in Ruminant Nutrition, her PhD in Ruminant Nutrition at North Dakota State University, and a Post-Doctoral at Iowa State University. In 2014 Dr. Van Emon was hired as an Assistant Professor and Extension Beef Cattle Specialist at MSU. Megan's Extension programming focuses on beef cattle nutrition and management. Megan focuses on accessibility to her clientele through email, phone, and text messages. In addition to traditional Extension meetings, Dr. Van Emon has embraced the use of technology, recording presentations and placing them on social media platforms and using webinar technology. Dr. Van Emon has earned $200,000 in grant funds to create new programs for Extension agents and beef cattle producers. Megan also has been successful in youth Extension outreach, focusing on 4-H programs, specifically the statewide Steer of Merit program. Megan's research program focuses on questions and concerns learned from beef cattle producers and has developed a unique opportunity for her graduate students to gain Extension experience. Dr. Van Emon has published 27 reviewed Extension publications and 24 peer-reviewed research publications. Megan recently completed her term as a member of the Beef Symposium Committee for WSASAS. Dr. Van Emon currently volunteers her time as a member of Tongue River Pheasants Forever and Miles City Ranch Rodeo committees and is active within her local community through city league sports and volunteering at 4-H events.
Young Scientist Award
Travis Mulliniks, University of Nebraska-Lincoln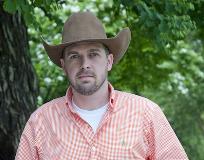 Dr. Travis Mulliniks completed his BS at Oklahoma State University in 2006 and continued his education at New Mexico State University where he received both his MS and Ph.D. in range nutrition under the advisory of Drs. Mark Petersen and Eric Scholljegerdes. During his Ph.D., Dr. Mulliniks collaborated and conducted his Ph.D. research at the USDA Fort Keogh Livestock and Range Research Station near Miles City, MT, where he focused on elucidating adaptive mechanisms and energy efficiency in grazing beef cows and metabolic indicators for the improvement and prediction of reproductive efficiency. After his Ph.D., Dr. Mulliniks was hired at the University of Tennessee as an Assistant Professor in Beef Cattle Nutrition. While in Knoxville, Travis served as chair for 3 MS students and 2 Ph.D. students while making advancements in cow/calf management research. In 2017, Dr. Mulliniks took an opportunity to move to North Platte, Nebraska for the role of Beef Extension Specialist in Range Nutrition at the West Central Research and Extension Center. Along with his extension and research efforts for UNL, Dr. Mulliniks also serves as faculty director of Gudmundsen Sandhills Laboratory where he oversees production needs of the 12,800-acre ranch and is currently advising 2 MS students and 2 Ph.D. students. His devotion to beef producers and strides in beef research is evident in his 54 abstracts, 50 peer-reviewed publications, 13 invited papers, and 19 extension and outreach publications.
2020 Western Section Young Scholar Recipients
M.S.
Rebecca Swanson, University of Nebraska-Lincoln
Robert Ziegler, University of Nebraska-Lincoln
Ph.D.
Chad Page, University of Wyoming
2020 Western Section Competition Recipients
3M-Video
1st Place: Jacob Thorne, University of Idaho
2nd Place: Carlyn Peterson, University of California, Davis
3rd Place: Ellen Lai, University of California, Davis

Applied Animal Nutrition
1st Place: Shelby Rosasco, New Mexico State University
2nd Place: Hannah DelCurto Wyffels, Montana State University
3rd Place: Jacob Wiegand, Texas A&M University
Undergraduate Poster Competition
1st Place: Kelley Duggan, California State University, Chico
2nd Place: Leah Treffer, University of Nebraska-Lincoln
3rd Place: Katie Peterson, California Polytechnic State University

Graduate Student Paper Competition
1st Place: Gwendolynn Hummel, University of Wyoming
2nd Place: Shelby Rosasco, New Mexico State University
3rd Place: Kelsey Schubach, Texas A&M University
Institutional Award