2021 Western Section Award Recipients
Distinguished Service Award
Dr. Connie K. Larson, Zinpro Corporation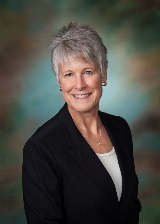 Dr. Connie Larson has been involved with animals for most her life through her lifelong love and interest with horses. This passion led her to pursue an undergraduate degree in animal science as well Master of Science and doctoral degrees in ruminant nutrition at Montana State University and New Mexico State University, respectively. All the while concurrently working a full time job and being a mother to three children. Dr. Larson has spent the past 23 years working for Zinpro Corporation as a research and technical services nutritionist, while advancing to various managerial roles over the years to her current position as Associate Director for Global Technical Services. Connie has also served on various boards and leadership positions for both the Western Section as well as the national ASAS organization. Throughout her career she has brought professionalism and integrity to whatever role or activity she has been engaged. Her ability to reach across to various groups whether in allied industry or academia to bring them together for a defined purpose has served all for a common benefit. Dr. Larson has accomplished this by promoting enthusiasm and positive attitude for all who know and have worked with her. Dr. Connie Larson continues to be a role model for young and upcoming animal scientists, as well as a valued friend and colleague for those who have known her for many years.
Extension Award
Dr. David W. Bohnert, Oregon State University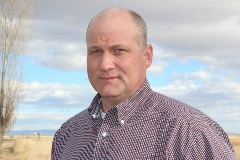 Dr. David Bohnert is a leader in developing Oregon's beef extension programs and disseminating management tools and programs, providing hands-on learning experiences for youth, and providing county faculty and producer trainings, field days, and tours. He is the Director of the Eastern Oregon Agricultural Research Center (EOARC). Dr. Bohnert began his career at Oregon State University (OSU) as an Assistant Professor and Extension Beef Specialist in 1998. He progressed to Professor while assuming administrative responsibilities at EOARC. His research is centered in three areas: (1) supplementation strategies, (2) management strategies, and (3) alternative feedstuff considerations. These research areas have direct application to Oregon and the intermountain west. He has strived to provide beef cattle producers with the knowledge and expertise to develop management practices that improve their overall profitability while benefiting animal welfare, rangeland health, and ecological function. In addition, he is actively involved in multi-state extension activities and committees. He has received the Young Scientist Award from the Western Section of American Society of Animal Science and OSU/College of Agricultural Sciences Briskey Award for Faculty Excellence. He has authored or co-authored over 100 peer-reviewed publications, presented over 160 invited presentations at state, national, and international meetings, and obtained over $2.6 million in support of his programs.
Young Scientist Award
Dr. Thomas W. Murphy, USDA ARS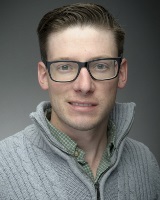 Dr. Thomas (Tom) W. Murphy is a Research Geneticist at the USDA, Roman L. Hruska U.S. Meat Animal Research Center, Clay Center, NE. He received his B.S. in Animal Science (2010) and M.S. in Animal Breeding and Genetics (2012) at the University of Nebraska-Lincoln and completed a Ph.D. in Animal Breeding and Genetics at the University of Wisconsin-Madison (2016). Before joining the USDA, he was an Assistant Professor of Sheep Production at the Montana State University. Dr. Murphy's research program is sheep focused and includes breed effects on meat and wool quality, evaluating maternal performance of crossbred and composite ewes, and estimating production impacts of sheep diseases with the intent of identifying genomic regions associated with enhanced resilience. Dr. Murphy has multiple publications in peer-reviewed journal articles and conference abstracts/proceedings. He has acquired nearly $2.5M of research funding. He regularly presents at regional, national, and international scientific conferences. He has served/serves on graduate student committees and mentored undergraduate student research projects. Currently, he is a member of the American Society of Animal Science, an Associate Editor for the Sheep and Goat Research Journal, a member of the technical committee on the National Sheep Improvement Program, a member of a USDA IACUC, and the secretary of NCERA-214. He regularly interacts with his stakeholders and enjoys presenting his research at producer events.
2021 Western Section Young Scholar Recipients
M.S.
Ms. Renae L. Sieck, University of Nebraska-Lincoln
Ph.D.

Dr. Kelsey M. Harvey, Texas A&M University
2021 Western Section Competition Recipients
3M-Video
1st Place: Rachel Gibbs, University of Nebraska-Lincoln
2nd Place: Paige Williams, Tarleton State University
3rd Place: Lauren Clark, Tarleton State University

Applied Animal Science
1st Place: Wayde J. Pickinpaugh, North Dakota State University
2nd Place: Meredith A. Harrison, Colorado State University
3rd Place: Taylor R. Zimprich, Colorado State University
Undergraduate Poster Competition
1st Place: Leah Treffer, University of Nebraska-Lincoln
2nd Place: Jordan Williams, University of Wyoming
3rd Place: Emma Kathcart, Texas State University

Graduate Student Paper Competition
1st Place: Amelia R. Tanner, Colorado State University
2nd Place: Wayde J. Pickinpaugh, North Dakota State University
3rd Place: Jesus Figueroa-Zamudio, New Mexico State University
Institutional Award
University of Nebraska-Lincoln