2020 ASAS/ADSA Midwest Award Winners
Animal Science Young Scholars
Michaela Trudeau, University of Minnesota
Sai Zhang, University of Maryland
Kacie McCarthy, North Dakota State University
Annie Lerner, Kansas State University
Edith Johana Mayorga-Lozano, Iowa State University
Su A Lee, University of Illinois at Urbana-Champaign
Jerad Jaborek, The Ohio State University
Kwangwook Kim, University of California - Davis
Outstanding Early Career Agribusiness Award
Sponsored by: BASF
Dr. Bo Harstine, Select Sires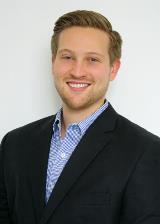 Dr. Bo Harstine is the Director of Research for Select Sires Inc., the largest global cattle artificial insemination cooperative. In this role, Dr. Harstine designs and conducts in-house research related to cattle fertility, sperm cell biology, and the logistics surrounding the shipment and utilization of cryopreserved semen in more than 90 countries. On behalf of Select Sires, he manages collaborative research endeavors with private and public institutions, and he is responsible for investigating novel products and biotechnology that will benefit Select Sires' customer-owners. Dr. Harstine earned his bachelor's degree in Molecular Biology from Washington & Jefferson College and M.S. and Ph.D. degrees in Animal Science from The Ohio State University. In addition to his duties as Director of Research, Dr. Harstine is an Adjunct Assistant Professor within Ohio State's Department of Animal Science, serves on the board or planning committees of several scientific associations including AAAA and NAAB, and enjoys communicating and advocating scientific and agricultural concepts with cattle producers and the general public.
Outstanding Young Extension Specialist Award
Sponsored by: Purina Animal Nutrition
Dr. Mary Drewnoski, University of Nebraska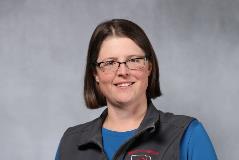 Mary Drewnoski grew up in Appalachia, attended Berea College and North Carolina State followed by a 3 year post doc at Iowa State and 2 years on faculty at University of Idaho. She was hired by University of Nebraska in 2014 as part of an interdisciplinary team focused on developing integrated crop and cattle production systems in Nebraska. Mary's extension and research program is focused on the utilization of crop residues and cover crop forages for backgrounding calves and beef cows. She has been instrumental in developing a $4.8 million Nebraska Beef systems Initiative and leads the extension component. Mary has made 87 presentations at extension meetings and has authored or co-authored 31 extension articles and done 45 interviews over the past 3 years. She instigated the development of an exchange for farmers with crop residues or cover crops to connect with cattlemen looking for grazing opportunities. Mary has certainly achieved the goals envisioned as a Beef Systems Specialist.
Outstanding Young Researcher Award
Sponsored by: DSM Nutritional Products, Inc.
Dr. Allison Meyer, University of Missouri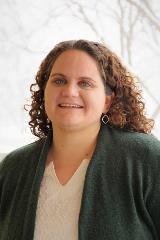 Allison Meyer grew up on a cow-calf operation in central Indiana before completing her B.S. at Michigan State University, M.S. at the University of Missouri, and Ph.D. at North Dakota State University. Meyer was on faculty at the University of Wyoming before returning to the University of Missouri in 2013. Currently, Meyer is an Associate Professor with a 45% research, 45% teaching appointment and serves as Director of Graduate Studies in Animal Sciences. Meyer's research focuses on effects of late gestational nutrient balance in beef cattle on pre-weaning calf metabolism and health, spanning from applied system work to small intestinal and immune function mechanisms. She has published 34 peer-reviewed articles and over 120 abstracts, received >$1 million in funding, given >35 invited scientific or industry presentations, trained 8 graduate students, and involved >20 undergraduates in research.
Outstanding Young Teacher Award
Sponsored by: Elanco
Christen Burgett, Iowa State University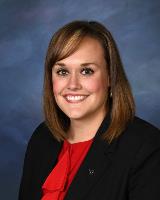 Christen Burgett hails from Bismarck, North Dakota. Her passion for dairy cattle began when she started showing dairy cattle in the sixth grade. Christen earned a bachelor's and master's degree in Animal Science from North Dakota State University. In fall 2012 Christen joined the Department of Animal Science at Iowa State University (ISU) as a Lecturer; she recently was promoted to Associate Teaching Professor. Her appointment is 50% teaching and 50% academic advising. She teaches four courses and advises approximately 80 undergraduate students. She has taught more than 2,430 students. She coaches the ISU Dairy Judging Team and is a co-adviser of the 130-member Dairy Science Club. Christen co-led two study abroad trips, assists with departmental recruitment, and actively participates in many youth dairy programs. She has been a youth dairy cattle judge at the county and state levels in Iowa and North Dakota. Christen, her husband Russell and their son Noah raise Polypay sheep.
Stahly/Peo Outstanding Graduate Student in Swine Nutrition Award
Sponsored by: The Stahly/Peo Memorial and Tribute Fund
Michaela Trudeau, University of Minnesota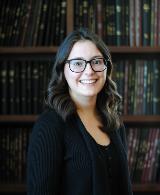 Michaela (Mickie) Trudeau is a PhD student from Hastings, MN. She completed her BS degree in Animal Science at the University of Minnesota where she graduated summa cum laude. After graduation, Mickie immediately began her MS program at the University of Minnesota studying swine nutrition with Dr. Jerry Shurson and Dr. Pedro Urriola. Her MS research focused on the survival of Porcine Epidemic Diarrhea Virus in swine feed. Mickie is currently continuing her PhD at the University of Minnesota in swine nutrition. Her thesis project focuses on swine health and nutrition by investigating antibiotic alternatives in nursery pigs. In addition to her thesis project, Mickie is involved in a variety of other research projects including the development of in-vitro swine enteroid models, evaluating the metabolome of pigs fed antibiotics, and working on a meta-analysis investigating exogenous enzymes in swine diets. Upon graduation, Mickie is looking forward to a career in the swine industry.
Young Dairy Scholars
Danielle Coleman, University of Illinois at Urbana-Champaign
Erin Horst, Iowa State University
Alex Tebbe, The Ohio State University