2023 ASAS Midwest Section Award Recipients
2023 Student Competition Results
Undergraduate Poster
3rd Place: PSI-A-11, Rachel M. Self, The effect of soybean meal and its functional compounds on growth performance, fecal scores, and fecal characteristics of nursery pigs
2nd Place: PSI-A-2, Elizabeth Fisher, Effects of microencapsulated zinc oxide on nursery pig growth performance and intestinal morphology
1st Place: PSI-A-10, Grace E. Schmidt, Correlations of NR3C1 gene expression with pork quality and carcass characteristics
Undergraduate Oral
3rd Place: 31, Sadie J. Drayer, Alternative housing for beef cow/calf producers: A survey of management practices and health concerns
2nd Place: 36, Jebadiah Schwager, Effects of programmed compensatory gain on feedlot steer behavior
1st Place: 34, Ty M. Mitchell, Assessing the ability to immunomodulate the innate immune system and oxidative status of weaned pigs through a prenatal lipopolysaccharide challenge
Graduate MS Oral
3rd Place: 63, Abigail K. Jenkins, Biological and management factors affecting colostrum intake and pre-weaning survival in piglets

2nd Place: 64, Ty Kim, Determining the phosphorus release curve for Sunphase HT Phytase from 250 to 2,000 FTU/kg in nursery pig diets
1st Place: 69, Cameron S. White, Monoglycerides of butyric, caprylic, and capric fatty acids promote intestinal integrity and host defenses in health-challenged weanling pigs
Graduate PhD Oral
3rd Place: 54, Jung Yeol Sung, Impact of ileal indigestible protein on nitrogen excretion and fecal microbiota may be greater compared with total protein concentration of diets in growing pigs
2nd Place: 52, Kaitlyn Sommer, Feeding style and its effect on growth and spatial preference of young pigs
1st Place: 45, Katelyn Gaffield, Determining the phosphorus release curve for Smizyme TS G5 2,500 phytase from 500 to 2,500 FTU/kg in nursery pig diets
Outstanding Early Career Agribusiness Award
Sponsored by: BASF
Hyatt L. Frobose, JYGA Technologies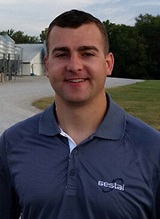 Dr. Hyatt Frobose received his B.S. in Animal Science (2009), MS (2012) and Ph.D. (2016) in Swine Nutrition from Kansas State University. Hyatt currently serves as the Commercial Director and Nutritionist for JYGA Tech USA, where he directs market presence of Gestal brand feeding systems for sows. He oversees nutritional and management support for customers in 27 countries impacting over 1 million sows. Hyatt has demonstrated significant impact of the products marketed since his employment in 2015, when he was the only US based employee. The owners of JYGA credit Hyatt for increasing company sales 10-fold since employment. Hyatt has been instrumental in having JYGA Tech USA present research findings at Midwest ASAS meetings with three different universities since his employment. Hyatt's creation of JYGA's applied research and internship programs underscores his emphasis on training the next generation to serve the swine industry.
Outstanding Young Extension Specialist Award
Jaymelynn Farney, Kansas State University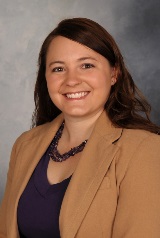 Dr. Jaymelynn Farney grew up on a cattle operation in New Mexico. She received her B.S. and Ph.D. from Kansas State University and MS from Oklahoma State University. Dr. Farney joined Kansas State University as a Beef Systems Extension Specialist in 2012. Dr. Farney's extension and research programs have focused on the integration of cattle within cropping systems, nutrition, supplements, and forages. She's developed a podcast, "Dr. J's Beef" with 97 episodes and 18,000 downloads. She's authored 25 peer reviewed extension and research publications, 27 abstracts and 40 proceedings/research reports, 75 media interviews, 52 newsletter articles and more than 193 invited talks, and generated over $600,000 to support research and extension efforts.
Outstanding Young Researcher Award
Chad B. Paulk, Kansas State University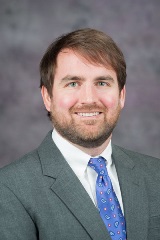 Dr. Chad B. Paulk grew up in Waycross, Georgia and completed his B.S. at the University of Georgia in 2009 and his M.S. and Ph.D. degrees in Swine Nutrition at Kansas State University in 2011 and 2014. Currently, he is an Associate of Feed Science and Management Program at Kansas State University. Dr. Paulk's research uses a multidisciplinary approach to enhance monogastric nutrition through research focused on feed manufacturing, applied nutrition, and feed safety. In the past 8 years, Dr. Paulk has been awarded numerous grants totaling >$3.7 million, authored 60 refereed articles, and trained 37 graduate students. Dr. Paulk resides in Manhattan, KS with his wife, Shannon, daughter, Eleanor, and son, Brigham.
Outstanding Young Teacher Award
Sponsored by: Elanco
Felipe (Phil) Cardoso, University of Illinois at Urbana-Champaign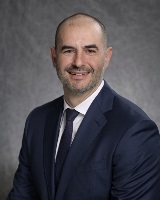 Dr. Felipe (Phil) Cardoso is an outstanding teacher in the Department of Animal Sciences at the University of Illinois. He teaches the four core component courses of dairy science at Illinois, a Leadership and Entepreneur course, and guest lectures in several other courses. Dr. Cardoso provides educational materials to students with depth but also with a wider perspective on how the material can be applied in the real world. He has the ability to connect with students, a deep-seated passion for teaching, and a desire for continual improvement. He developed the "Dairy Focus Team", a student-focused extension and education program to give students real-world experience while assisting Illinois dairy farmers. Congratulations to Dr. Cardoso.
Stahly/Peo Outstanding Swine Nutrition Midwest Graduate Student Award
Madison (Madie) R. Wensley, Kansas State University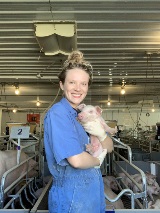 Dr. Madison (Madie) R. Wensley is one of the most productive graduate students that has studied with the Kansas State University Applied Swine Nutrition Team. Her M.S. and Ph.D. research efforts resulted in 16 first-author referred journal papers and 11 peer-reviewed scientific abstracts. Her M.S. research focused on phytase where she developed an available phosphorus release curve for a novel phytase source and assessed phytase release values for calcium, phosphorus, amino acids, and energy in finishing pig diets. Madie's Ph.D. research was centered on identifying ways to improve post-weaning piglet livability and performance as part of the 2018 NPB-funded pig survivability project and culminated in two literature reviews and 10 trials utilizing over 17,000 pigs. In graduate school she has been recognized with 9 scholarships and awards including the 2022 ASAS Young Scholar award. Madie is a true leader and her passion for helping others understand will be impactful both in and out of the swine industry for years to come.
Young Scholar Award
Nirosh D. Aluthge, University of Nebraska-Lincoln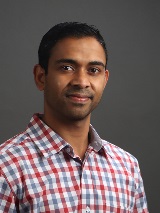 Dr. Nirosh D. Aluthge earned a B.S. in Microbiology at the University of Kelaniya, Sri Lanka with First Class Honors in 2009. In 2012, he began pursuing a M.S. degree and then a Ph.D. in Food Science and Technology under the direction of Samodha Fernando. Nirosh successfully defended his doctoral dissertation which focused on the Evaluation of human microbiota associated porcine models to study the human gastrointestinal microbiome. He published his work in 11 journal articles and presented his data at 6 scientific meetings. Nirosh's excellence in research is evident based on his receipt the Milton Mohr Graduate Fellowship in 2017 and placed first in the Arthaud Graduate Student Oral Presentation Competition. In addition to research, Nirosh served as a teaching assistant for 2 courses at UNL and 2 courses at the University of Kelaniya. Nirosh is now a Post-Doctoral Research Associate and continues to study the molecular microbiological aspects of health and biotechnology in humans and production livestock.
Lauren A. Brizgys, Purdue University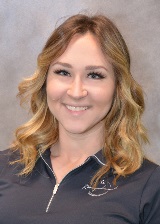 Lauren A. Brizgys is a Ph.D. candidate in the Department of Animal Sciences. Her research focuses on dietary interventions to mitigate weaning and transport stress in swine and subsequent immune responses. The National Pork Board has sponsored Lauren's research; she is credited with developing the grant materials for that funding. Lauren is also well-published with eight (8) refereed journal articles, where she is the primary author of seven. In addition, she has eight (8) abstracts, six (6) poster presentations, and two (2) invited popular press articles to her name. Ms. Brizgys' contribution to science goes beyond traditional research. She has been an instructor in four (4) different courses and designed online components of many classes during the pandemic. Her Extension responsibilities have included managing Horse Bowl and Hippology contests, the regional Academic Quadrathlon, and our Jr. Pork Day. As you can see, Ms. Brizgys is an exceptional young scholar with a bright future.
Kelsey L. Hammers, University of Minnesota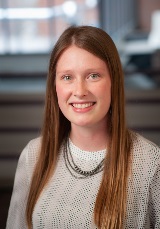 Kelsey L. Hammers is a Ph.D. candidate in the University of Minnesota's Department of Animal Science studying swine nutrition. Her dissertation project focuses on the effects of supra-nutritional zinc feeding during gestation on post-natal piglet survival. Ms. Hammers earned a B.S. degree in Animal Science from the University of Missouri where she was named one of the top ten Animal Science graduates and a M.S. degree in swine nutrition at Kansas State University. In her short career to date, she has published 3 refereed papers, 9 abstracts, one book chapter, and 6 outreach articles. In 2019, she was awarded the Nemechek Family Swine Graduate Scholarship at Kansas State University and in 2021 she received a Professional Student Fellowship from the National Pork Board. Kelsey has internship experience in commercial and research settings with Cactus Family Farms, Smithfield Hog Production, Purina Animal Nutrition, and the University of Missouri.
Junjie Han, Michigan State University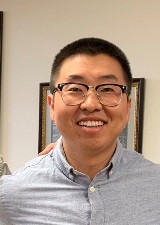 Dr. Junjie Han received his Ph.D. from Michigan State University in August 2022. He was mentored by Dr. Juan Stiebel as he completed his dual degree in Animal Science and Computational Mathematics, Science and Engineering. Junjie's dissertation research focused on the development and assessment of predictive models for improved swine farming in the realms of both precision livestock farming and genomic prediction. During his Ph.D., Junjie worked as a research assistant, mentored two undergraduate researchers, and served as a teaching assistant and as a statistical consultant. During the Ph.D. program, he was awarded the Food Systems Fellowship from the College of Agriculture and Natural Resource and received an Outstanding Ph.D. Graduate Student Award from the Department of Animal Science, and was recognized as Outstanding Young Leader by Farm Journal's PORK Magazine. Junjie recently joined Bayer as a quantitative genomics scientist.
Vitor Hugo C. Moita, North Carolina State University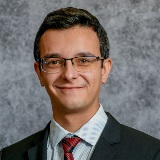 Vitor Hugo C. Moita is currently a Ph.D. student in animal science at North Carolina State University. He was born and raised in Brazil, and received his B.S. and M.S. at Sao Paulo State University–Botucatu and Federal University of Lavras, respectively. During his B.S. program, Vitor joined NC State as a visiting student for a semester. His Ph.D. research is aimed at the investigation of functional roles of feed enzymes eliminating antinutritional compounds in feeds or generating bioactive compounds from feeds benefiting mucosa-associated microbiota with its impact on intestinal health and growth of nursery pigs. To date Mr. Moita has published four journal articles. He has presented numerous poster and oral presentations at the Midwest and National ASAS meetings supported by competitive travel awards at NC State. In 2021 he received the Pinnacle Award from the International Ingredient Company which is awarded to outstanding graduate students in the US.
Sangwoo Park, University of California-Davis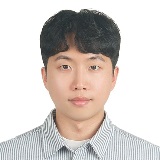 Sangwoo Park was born in Daejeon, Republic of Korea. He earned his master's degree in Animal Science from Chungnam National University, Republic of Korea in 2017. His master thesis focused on identifying the effects of protease on growth performance, nutrient digestibility, and carcass characteristics of growing-finishing pigs. After completing his master's degree, Sangwoo worked in Non-Ruminant Nutrition Laboratory at South Dakota State University (Brookings) and Chungnam National University for three years as Research Assistant. He joined the Animal Biology Graduate Group at the University of California, Davis in 2020. Sangwoo Park is currently a Ph.D. candidate in the Animal Biology Graduate Group at the University of California, Davis. His PhD research is to investigate the dietary effects of monoglycerides on performance and disease resistance of weaned pigs.
Zhong-Xing (Johnson) Rao, Kansas State University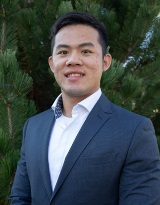 Zhong-Xing (Johnson) Rao completed his B.S. at the National Chung Hsing University in Taiwan (2017) and his M.S. at Kansas State University (2020) in swine nutrition and is currently completing his Ph.D. at Kansas State University in swine nutrition. During his B.S. degree, Johnson was the President of the animal science student association and received the outstanding graduating senior award and the Chin-Yao Award, which recognizes the top 1% of students at the entire university. During his M.S. and Ph.D. at Kansas State University, he conducted numerous research projects and provided leadership through data analyst roles with several commercial industry research partners. He has received several graduate student scholarships for his excellent grades, university leadership involvement, and superior research efforts. His rich sense of humor and intelligence allows him to connect with audiences and be a trusted source of information that he has helped generate for the swine industry.
Colby A. Radifer, University of Missouri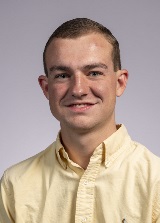 Colby Redifer is a Ph.D. candidate in Ruminant Nutritional Physiology at the University of Missouri under the guidance of Dr. Allison Meyer. Originally from Blacksburg, Virginia, his fascination with pregnant ruminants began while raising and exhibiting seedstock cattle, sheep, and goats with his family. He attended Texas Tech University for his B.S. in Animal Science and completed a M.S. in Animal Science at Iowa State University. Colby's M.S. research focused on peripartum supplementation of methionine hydroxy analog on beef cow-calf performance. While at Mizzou, his research has focused on developmental programming, specifically the impacts of late gestational nutrient restriction on prenatal and postnatal offspring nutrient utilization in beef cattle. Colby hopes to obtain an academic position where he can continue to study the effects of nutritional and environmental factors on the partitioning of nutrients between the dam and offspring during gestation and lactation.