CANADIAN INDUSTRIES AWARD IN EXTENSION AND PUBLIC SERVICE
Dr. Ruurd Zijlstra, University of Alberta
Sponsored by Canadian Pork Council, Chicken Farmers of Canada, Beef Cattle Research Council, and Dairy Farmers of Canada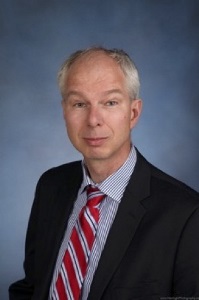 Dr. Ruurd Zijlstra is Professor of Swine Nutrition in the Department of Agricultural, Food and Nutritional Science at the University of Alberta. After obtaining his PhD at the University of Illinois, he was appointed Research Scientist (Nutrition) at Prairie Science Centre Inc. and Adjunct Professor at the University of Saskatchewan. Believing in the importance of technology transfer, he has been an organizing committee member since 2005 of the annual Banff Pork Seminar, which serves the Pork Industry, and has served since 2012 as its Program Co-Chair. He regularly contributes to the Canadian Hog Journal. He served as Co-Chair for the 2008 and 2011 Western Nutrition Conference that serves the feed industry, and as a committee member in 2004, 2005, and 2014. He believes that collaborative research benefits animal industries, and has put that belief into action by co-leading Canadian swine nutrition research initiatives involving researchers in 4 or 5 provinces under the umbrella of Swine Innovation Porc for 3 subsequent funding rounds. From 2015 to 2020, he served as Chair of the Department and led initiatives to strengthen collaborations between the Department, Animal Industries and other industry sectors. These resulted in the creation of four industry-funded faculty positions focused on Animal and Crop Production: specifically, NSERC–IRC in Dairy Nutrition with core support from Alberta Milk, BCRC - Hays Chair in Beef Production Systems, NSERC–IRC in Agricultural Entomology with core support from the four major Alberta crop boards, and WGRF Chair in Cropping Systems. He continues to enjoy teaching Swine and Companion Animal Nutrition in the Department.